Hello again guys! We're still fighting on with the dungeon, with Teddy implementing the last things before fine-tuning sessions and multiplayer edits.
Vilya has revisited some of the maps of the dungeon this week as well,
improving its overall look and feel
. As an example, here's one of the outdoor maps before the improvements:
And here's a couple of shots after: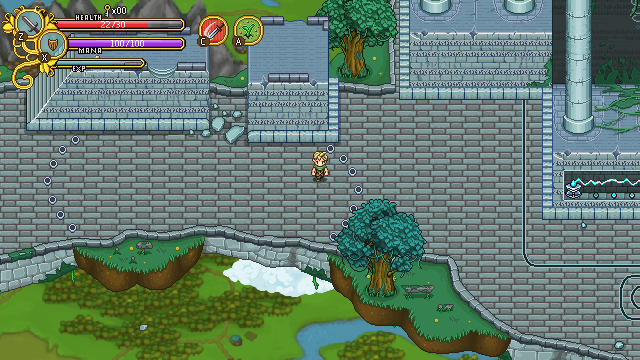 It's all in the details
, and visual improvements will most likely keep being implemented all over the world of Grindea when there's time.
When it comes to the animation department, I've started working on a Yeti-ish enemy for the Winterland. Below are some
idle animations
created during a streaming session from last night.
I'm gonna be doing streams a bit more often in the future since I have upgraded my 4 year old laptop to one of Teddy's 4 year old desktops!
In other animation news, there's also a level 3 version of the new
Summon Plant spell
! It has increased range compared to the lower levels, and of course it also deals more damage.
However, perhaps the most important feature is its increased cuteness:

Last but not least, we're very excited to have received our very first
fan art
! This piece was made by
Crispat87
Crispat87 during the streaming session last night.
Thanks a lot man, we really appreciate it! :D